BOOST Be Well is an outpatient subscription service for patients needing nutritional supplements after hospital care. 
The goal is to educate subscribers about program resources and increase audience engagement by 10% and 10% open rate, which were nearly achieved.
The layouts were created by leveraging an existing email system and current site content. Check out how I created the email system
here
.
⏲️  Timeline: 2 weeks | 🎩  Role: Design & Production
Email #1 - Welcome
The introduction email focused on the program and available resources to subscribers. This email is sent after orders have left the warehouse. We hypothesized that it could help keep patients engaged and excited before orders arrive.
Email #2 - Program Check-in
Patient check-in three weeks after sign-up
NHSc standard free shipping takes anywhere from 5 to 8 business days within the U.S. without counting processing time (an additional 1-3 days).
Collaborating with the e-commerce team, we learned that most subscribers received their products after ten days. Therefore, we set this email to deployed at the 3-week mark in case of delays. 
Email #3 - Share Your Experience
At the 4-week mark, an email is sent to ask subscribers to share their experience with the program.
Email #4 - Protein Benefits
Newsletter highlighting three sources of high protein found in daily food. 
According to the NHSc Medical team, protein is essential for lean muscle mass and wound healing. In other cases, the average cost of readmission is higher for patients who are protein deficient, ranging between 26-34%.
More than 40% of adults ages 51 and older are not meeting their minimum daily protein requirements.
Email #5 - Free Dietitian Consultation
A Yale study found that more than 50% of older adults typically take six months to regain pre-ICU functioning. With that said, the BOOST Dietitian program is introduced to subscribers at the 6-month mark since RDNs can help them re-assess their macro and micronutrient needs.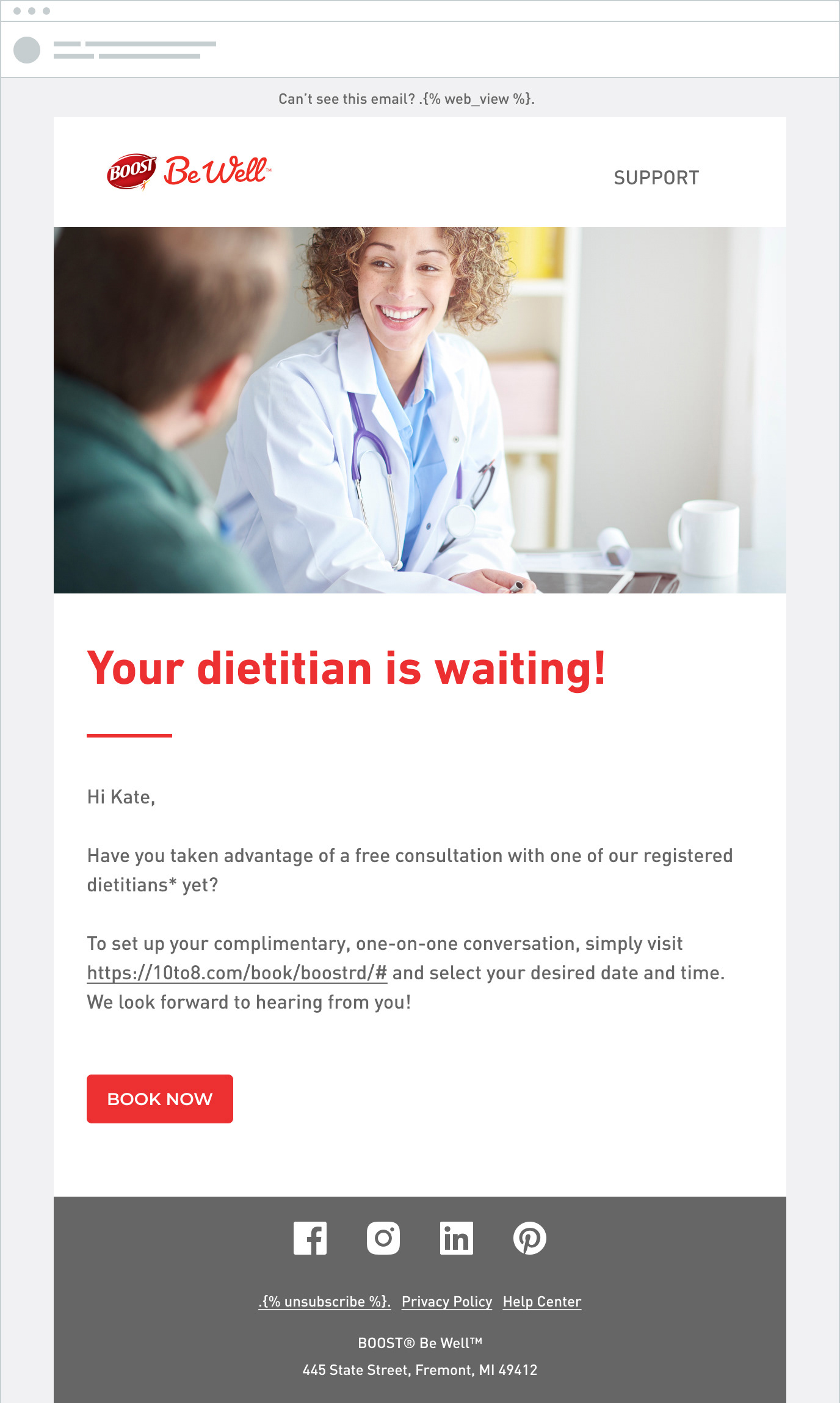 Email #6 - Create with BOOST
This email highlights BOOST Drinks recipes to create dishes for breakfast, desserts, and snacks. This is an option for subscribers looking for ways to incorporate BOOST Drinks into their diet. Recipes are developed by RD staff to ensure they meet dietary needs.
Knowing that subscribers love to share their culinary skills on social media, we took this opportunity to promote BOOST's social handle and to increase brand engagement on its social platforms.
Email #7 - Meet the BOOST Family
As the program nears its end, this is an opportunity to reintroduce products for daily consumption.
In addition to free access to RD, the BOOST website features a product quiz to help patients who aren't sure which product is right for them. 
Email #8 - Program Anniversary
When subscribers reach the end of their year-long journey, BOOST celebrates their milestone with a coupon for future orders.
HCP Program Introduction
HCP focused on email to communicate the launch of the subscription program. The email links to a landing page explaining further details of the program. 
🎥  Credits
Brand Manager - Kendall Ryan
Product Manager - Cassie Savage
Designer - Kate Yip
Copy writer - Cassandra Rose